*** SHOW NOTES ***
2 California passengers arrested after fighting with American Airlines gate member at MIA – WSVN Miami
23-year-old Brittney Mohammadi and 26-year-old Manuel Arteaga, both from California, have been arrested after they were caught on camera Sunday fighting with an American Airlines gate member by trying to jump over the counter. 

According to police and the airline, the couple wanted to board the plane bound for Los Angeles, but they were told they couldn't get on, not because they weren't wearing masks, but because the woman wasn't wearing shoes. 

"We went through TSA, we had everything checked out, they didn't realize she didn't have her shoes," said Arteaga. When asked in what world is it acceptable to jump on a counter at an airport, Mohammadi said, "OK, and I get that, and I will take 100% responsibility." When asked how she didn't know it wasn't acceptable to not wear shoes in the airport, she replied, "OK, you know what? I don't go to the airport that often."
First, TSA Pre-Check would've helped these two out because they would've had to remove their shoes. My predictions is that there would've still been problems, and here's why. The two admitted they were drunk. "We were at the Voodoo Lounge. We had tequila," Mohammadi said. One tequila, two tequila, three tequila… police car. And thank you Florida.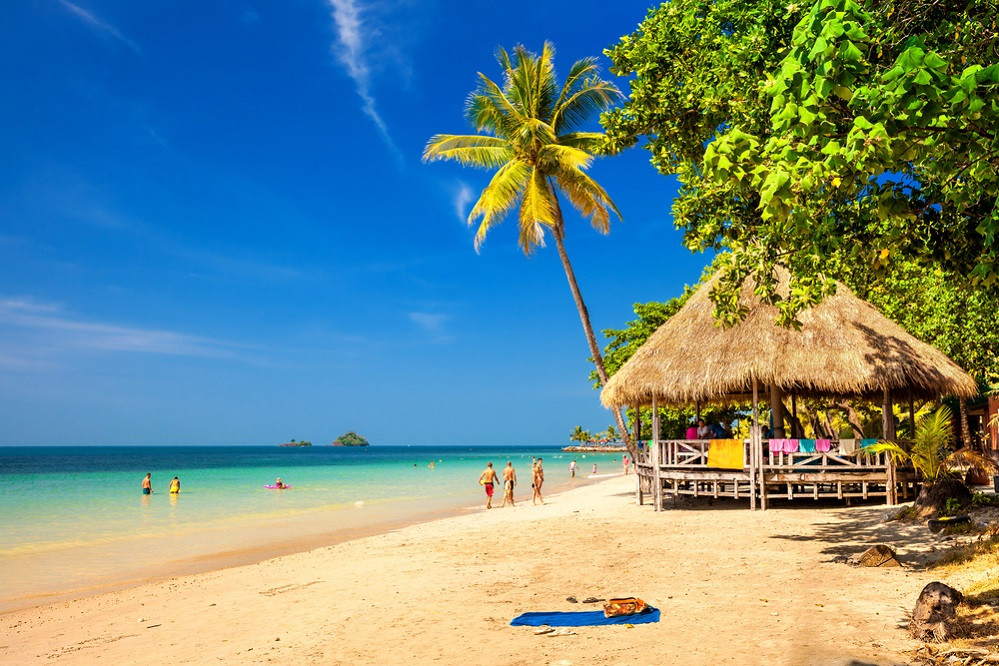 American sued in Thailand over negative Tripadvisor review – Travel Guide
An American has been sued by an island resort in Thailand over a negative Tripadvisor review and could face up to two years in prison if found guilty.

Domestic tourism is still happening in Thailand, where coronavirus numbers are relatively low, with locals and expats heading to near-empty resorts — including Koh Chang island, famed for its sandy beaches and turquoise waters. 

But a recent visit to the Sea View Resort on the island landed Wesley Barnes in trouble after he wrote unflattering online reviews about his holiday. We all have our right to speech, but sometimes there are repercussions. I found Wesley's one-star review, it wasn't that hard. Here's the highlight of the review. Unfriendly staff, no one ever smiles. They act like they don't want anyone there. The restaurant manager was the worst. He is from the Czech Republic. 

Free speech being in play, here's a bit of the reply from properties Room Division Manager. On the day you arrived, you decided together with some friends to have dinner in our Sunset Restaurant and you brought along your own bottle of liquor which goes against our rules, as it does in any hotel or resort I have worked or visited around the globe. 
I've stayed at enough resorts to say, he's right, you don't get to be your own bartender. Of course, this quickly became a pissing contest where the aforementioned restaurant manager had to step in which led to this parting shot from the Sea View Room Division Manager.
We wish you a safe trip here in Thailand and we hope that other resorts don't have to go through the same experience as the one we had.
There are always three sides to a story, your mine and somewhere in between is the truth.
As I've been tracking travel, both business and personal, more on the personal bit in the Q&A section. The word is still inconsistent, and I will take in account that people are getting more comfortable, odd word, in the age of COVID. My Monday night hotel had no COVID notifications in and around the hotel elevator. No hand sanitizer, no social distancing notifications outside or inside the elevator, and no TWISTER style dots on the elevator floor.
Trouble remembering your hotel room…. Don't we all. Take those break-the-seal door stickers off the door frame and stick them to the middle of your door.
Onto to tonight's topic, travel questions, and answers.
It seems that asking questions on Instagram makes you an influencer…ah, ok I'm game so I posted this, Send your travel questions for an upcoming episode", I got questions but none of the influencer money.
This started over the weekend when we were at Disney Springs and it was raining. Jackie asked….Poncho or umbrella?

How many chances do you give a hotel?
My own question after last weekends stay at Hilton Palace in Disney Springs.
What is the best travel reward program?
Choose one based on your needs.

There are no wrong decisions

Get a corresponding credit card
With COVID would you get on a plane?
My own question, Would you get on a cruise ship?
No, 

To confining, 

Too structured. 

Not for me. 

Drink package.
In all your years traveling what has been the biggest change?
Technology. 

Apps, TripIt, Airlines, Hotel, Waze
How do you decide to use points or dollars for travel?
All the travel gurus have formulas. What is a point worth? .50, .75, or a dollar? 

My formula isn't that straight forward.

What is the cost of the room, dollars, and points?

How many points do I have?

How much cash do I have?

When is the next monthly payment due?
Factor and then decide. I'd rather give someone $100.00 than give them my points unless they're family.

Best rental car you've gotten? 
Years ago rental cars were a surprise, you'd order a 4 door Camry, and next thing you know you get a  Dodge Charger. Now with Hertz, you can choose from a group of cars based on your level or status.
Top 4 plus an honorable mention
Malibu two-tone interior

Lincoln Continental – Memphis

Chevy Camaro – yellow convertible

Ford Mustang GT

The winner, Dodge van – sliding doors open in the morning.
Window seat or aisle seat?
Window for years, built in headrest

 Now it's aisle.
The worst trip you've ever taken? 
Seattle, fly out Sunday return Friday. No direct "affordable' direct flights from Orlando to Seattle. Southwest with two stops and only one plane change. Leaving Orlando 10:00 AM Sunday morning and arriving in Seattle at 6:00 PM Sunday evening.  Roughly 11 hours of travel time after you factor in the time zone change. 
5 days of dress clothes, etc so my carry-on wasn't going to cut it so I went with a bigger bag thus requiring it to be checked. Two broken travel rules – connecting flights and checked luggage.
My initial leg, Orlando to St. Louis was perfect, I had the whole row of seats to myself, called a plane couch.
Southwest offers inflight text messaging.  Right before landing, I get a text message. "SWA Flight 3153 on Sep 08 from STL is canceled. To rebook or request a refund call 1-800-Your Day Is About To Suck".  Get off the plane and immediately dial the number as well as head over to a gate agent. Whichever one responds first gets to be the winner. 
I explained to the gate about the canceled flight and he begins typing away and comes back with two options – there's a 2:20 PM St Louis to Oakland, CA. The flight leaves Oakland CA and gets you into Seattle at 9:00 PM. There's a second direct flight that leaves St Loius at 4:40 PM that gets into Seattle at 7:00 PM. It's oversold but I'll put you on standby, and I'll transfer your luggage to that flight so even if you don't make it your luggage will be there long before you are. 
Matthew says to keep checking back in case a seat opens up on the 4:40 PM and you can get booked. It's roughly 10:00 AM time for some brunch, besides I've got 4 hours to kill. A few hours later I check back and yes there are 9 open slots on the direct flight that gets me in earlier. I ask, "Can you book me on it?", sorry, unfortunately, you have to go to that gate and they can do it.
I head to that gate and explain the whole I have a confirmed seat on the 2:20 PM flight story, but I understand there are 9 open seats on the 4:40 PM direct flight can I get one of those seats. The gate agent goes on to explain that she can't release any of those seats until an hour before the flight……. What….. I get booked on earlier flights all the time. Besides my flight leaves at 2:20, which later got pushed back to 3:00 PM, so I won't be here an hour before the 4:40 PM direct flight. I probably could've had got one of those 9 seats, but if I didn't I'm not sure what time I would've made it to Seattle.
My flight leaves St. Louis and arrives in Oakland California a few hours later, I had an open seat next to me, it's a beautiful thing. My Seattle flight was supposed to have left Oakland somewhere around 7 PM arriving in Seattle at approximately 9:10 PM. That flight was also delayed so we did not leave Oakland until 8:30 PM arriving in Seattle at 10:30 PM, at this point it had been over a 15 hour day of travel. 
The one bright side, I thought, was that Mathew had put my luggage on the 4 PM direct flight so I knew that I wouldn't have to wait for my bag to arrive… I was sadly mistaken. Walked to the baggage claim office, they had no record of my bag as on the earlier flight, but they said don't worry we still have one more flight coming in from Oakland at 1 PM we feel confident that your bag is on that flight. At this point I was so tired I gave them the address of the hotel, told them please don't call me I'll be asleep, and to just leave the bag at the front desk. 
I got to the Marriott somewhere around 11:30 PM told the desk clerk that I would be expecting my luggage and it please do not ring my room when it arrives. Right around  4 AM Pacific time I get an email that my bag had been delivered, and since my body still thinks I'm on the East Coast time I'm awake so I headed downstairs ready to start the day. 

Best travel tip?
Don't go to the third bar. The first bar, you're good, the second bar, you'll normally be safe, the third bar is where Jagermeister and Fireball enter the picture, and everyone agrees that it's good, no make that a great idea. 

No one starts the evening with either of those, but by the time you hit the third bar, those drinks suddenly become a great idea. Many many years ago I watched a colleague lose their job all because of the third bar, and all three bars were in the same hotel. Hotel bar one and hotel bar two, all is good, the third hotel bar its shots and more shots. His manager comes over and leads him back to his hotel room with instructions to stay put. Roughly 30 minutes later said colleague magically reappears and his manager takes him back to his hotel's room, again. Thirty minutes later he makes his way back down to the lobby, and the next morning he is on LinkedIn updating his resume.

Also, don't put your luggage on the bed.
Luggage, two-wheel, or spinner?
180 on this one from two-wheel to spinner. 

The reason is more room.
Best travel advice?
This is different from a travel tip. In the words of John Dalton from the movie Roadhouse….Be nice, be nice to everyone, the gate agent, the desk clerk and everyone that you speak with on the phone. I normally start out with these four words….. I need some help. Even when I am frustrated due to delayed flights, crappy hotel rooms and mistakes I made and want to correct I start the conversation with I need some help. During my 20+ years of travel, most people want to help, so don't be a dick..
Also, domestic travel is rough, especially if it's a different hotel each night, however, it's better, way better than being a cubicle jockey M-F with the same soul-sucking coworkers.
If you have a comment you can leave a voicemail on Anchor or send me an email at TravelFrick@gmail.com.
Each day we're getting closer to traveling and returning to "travel safe" until then stay safe and thanks for listening.
Find me on:
Instagram, Twitter, Yelp, Untappd or the Book-Of-Face